Plug first, sketch second--you all know my crony/chum
Hammers
, right? He's better known to the world as Nathan Hamill, and he's been interviewed on StarWars.com regarding his participation in the most recent series of Star Wars Galaxies trading cards.
Click HERE to read it
.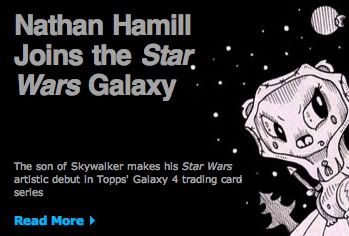 Notably, the article mentions a non-Star Wars item--Nathan's upcoming foray into designer toys, with a bad-ass vinyl racoon. You read correctly, a bad-ass vinyl
racoon
.
And as an unintentional coincidence, I've prepared a series of Star Wars sketches for the next few weeks. Here's R2-D2:
You can imagine what might be coming up in the ensuing weeks. And if Star Wars isn't your cup of tea,
you philistine
, stay tuned for more Street Fighter and He-Man after I wrap these up.